Latest news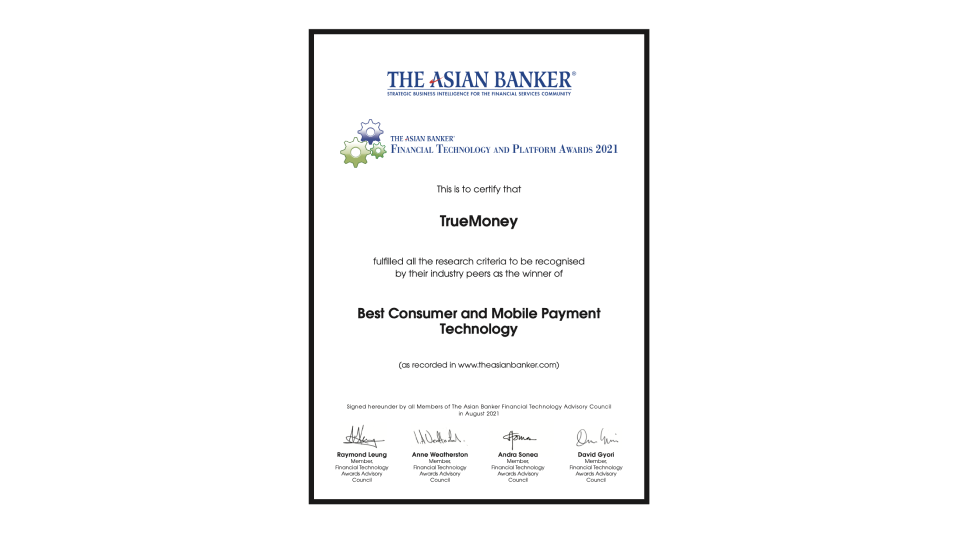 TTrueMoney Receives The Asian Banker Financial
Technology and Platform Awards 2021
TrueMoney by Ascend Money recently received the Best Consumer and Mobile Payment Technology award from The Asian Banker Financial Technology and Platform Awards Program 2021.

This is the 5th consecutive year we received the award from The Asian Banker Awards, which is the most prestigious and authoritative technology achievement programme of its kind to evaluate the successful implementation of technology projects in the Asia Pacific, the Middle East, Central Asia and Africa.

With our mission to enable everyone to access innovative financial services, leading to better lives; TrueMoney platform has evolved from a very small beginning starting with one use case where users can use TrueMoney Wallet to pay for games.

Today, we have expanded from payment services of which we now have the most comprehensive use cases online and offline, to a very comprehensive digital financial services from lending (BNPL & Personal Loan), digital savings, insurance and Investment.

Thanks to the strong support from our customers, partners and the recognitions we received. It would be a strong reinforcement and testimony for our team -- to continue fulfilling our mission through innovation, strong customer experience, reliable and trustworthy platforms.
Back to home